Hatsune Miku Cosplay Ultimate Guide
Dec 13,2021 | Jessica Sylvie
Hatsune Miku, the Vocaloid princess, is unquestionably one of the most popular cosplay options the world has ever seen. I believe if you wear these clothes below, you must be gorgeous.
Information about Hatsune Miku
There have been many misunderstandings regarding Hatsune Miku and the other Vocaloid characters. People frequently identify them with anime since they have a similar appearance.
The fact, however, is that Vocaloids are "Vocal Androids" once their portmanteau is broken down. Vocaloid is computer software that allows you to compose your songs and have them performed by the program. There are several Vocaloids, and Hatsune Miku is one among them.
History
Hatsune Miku is not the first Vocaloid to be developed. She is, however, the first VOCALOID2 series character to be published in Japan. KEI created her with a color palette reminiscent of Yamaha's blue-green synthesizer.
Miku's brief biography reveals that she is 16 years old, 5'2" tall, and weighs a healthy 42 kg. Saki Fujita, a Japanese seiyuu who played Elena in Ultra Street Fighter IV, provides Hatsune Miku's voice. According to Crypton Future Media, Hatsune Miku is "a robotic diva in a near-future world where music is gone."
Personality
This is the tricky part. The character of each Vocaloid varies according to the song they are singing, such as Love is War and Magnet.
However, based on the numerous depictions of Miku, she is one of the most joyful of the Vocaloid group. Her overtly pleasant and cheerful demeanor, along with her trademark turquoise twin-tailed hair, has won her a slew of followers.
Miku shouts out song after song with the same passion and fire as Vocaloids. Most Hatsune Miku cosplayers focus on Miku's love of music or charming poses.
Appearance
Hatsune Miku wears various clothes and hairstyles based on the song she sings. However, she is most recognized for her signature outfit.
Miku has turquoise hair with twin tails. Her hair falls below her knees. She is dressed in a grey, sleeveless button-up shirt with a collar and a turquoise tie with black bars in the center.
Miku's black little skirt is pleated and contains digitized yellow squares. Her outfit is laced with turquoise lace, and a turquoise belt drapes on the side.
Miku wears arm bracelets with digital symbols and a skirt and thigh-high boots. Her pigtails are held in place by black and red ribbon squares, and she is never seen without her distinctive headphones.
Miku Cosplay Guide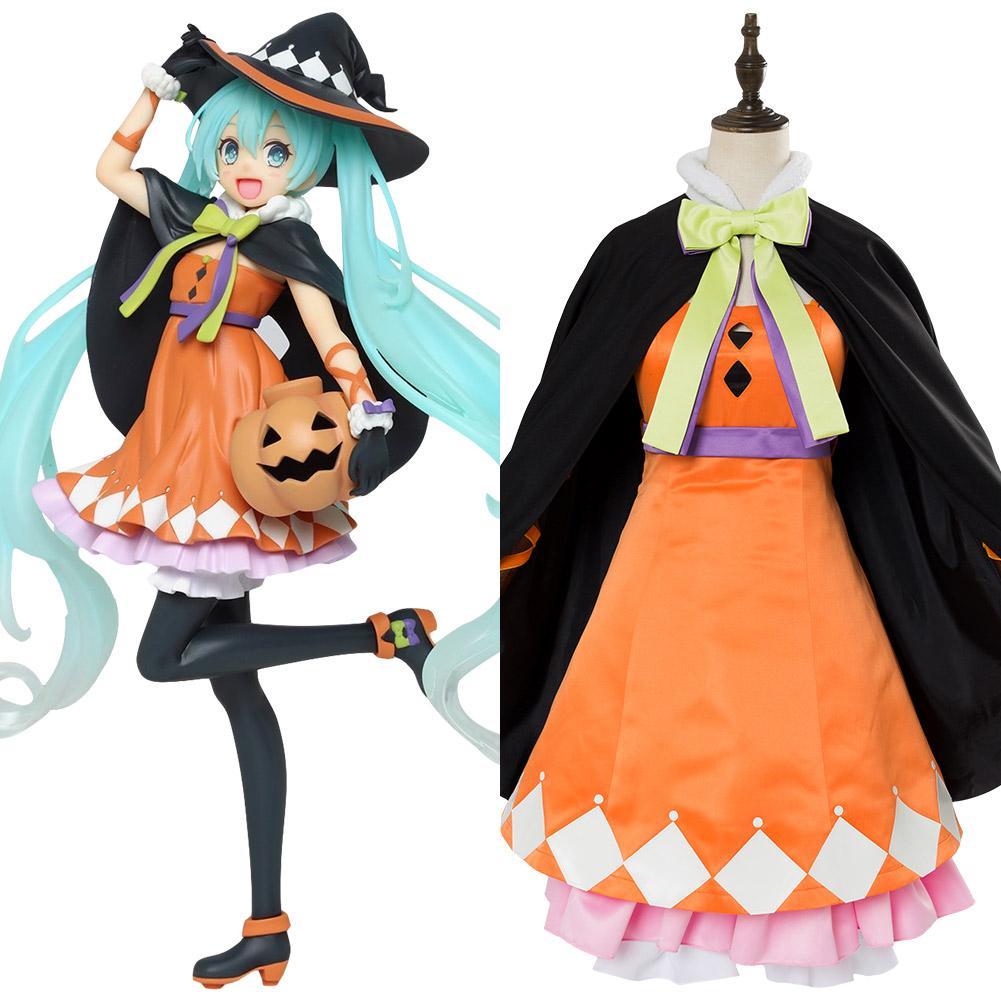 This is ideal if you want to construct your costume or have one made for you by a tailor. You may acquire one from our shop if you have any spare cash.
Making this outfit yourself necessitates understanding what kind of fabric to purchase. Satin is my recommendation for achieving that Vocaloid shine.
It would be nearly hard to grow out your hair beyond your knees and get it colored turquoise if you were trying for 100% Hatsune Miku authenticity! So the best solution is to acquire a wig with twin tails.
There are several makeup tutorials for Hatsune Miku available on the internet. Most cosplayers would choose Miku's color palette. You may also experiment with our eye shadow makeup kits.
4. Contacts Lens
Hatsune Miku's eyes are either turquoise or aquamarine. Suppose you are new to cosplay and insist on wearing circle lenses. In that case, it is strongly advised that you see your optometrist before trying them on.
Getting the wrong size, wearing them incorrectly, and even using the improper contact lens solution for your eyes can cause pain and even harm to your eyes.
Finally, strive to be the greatest Miku you can be! Have a fantastic time!
Back to DIY Guides.