Best Cosplay Guide for Yuji Itadori from Jujutsu Kaisen
Feb 28,2022 | Jessica Sylvie
Best Yuji Itadori Cosplay Guide
You'll need the following items for Yuji Itadori's cosplay.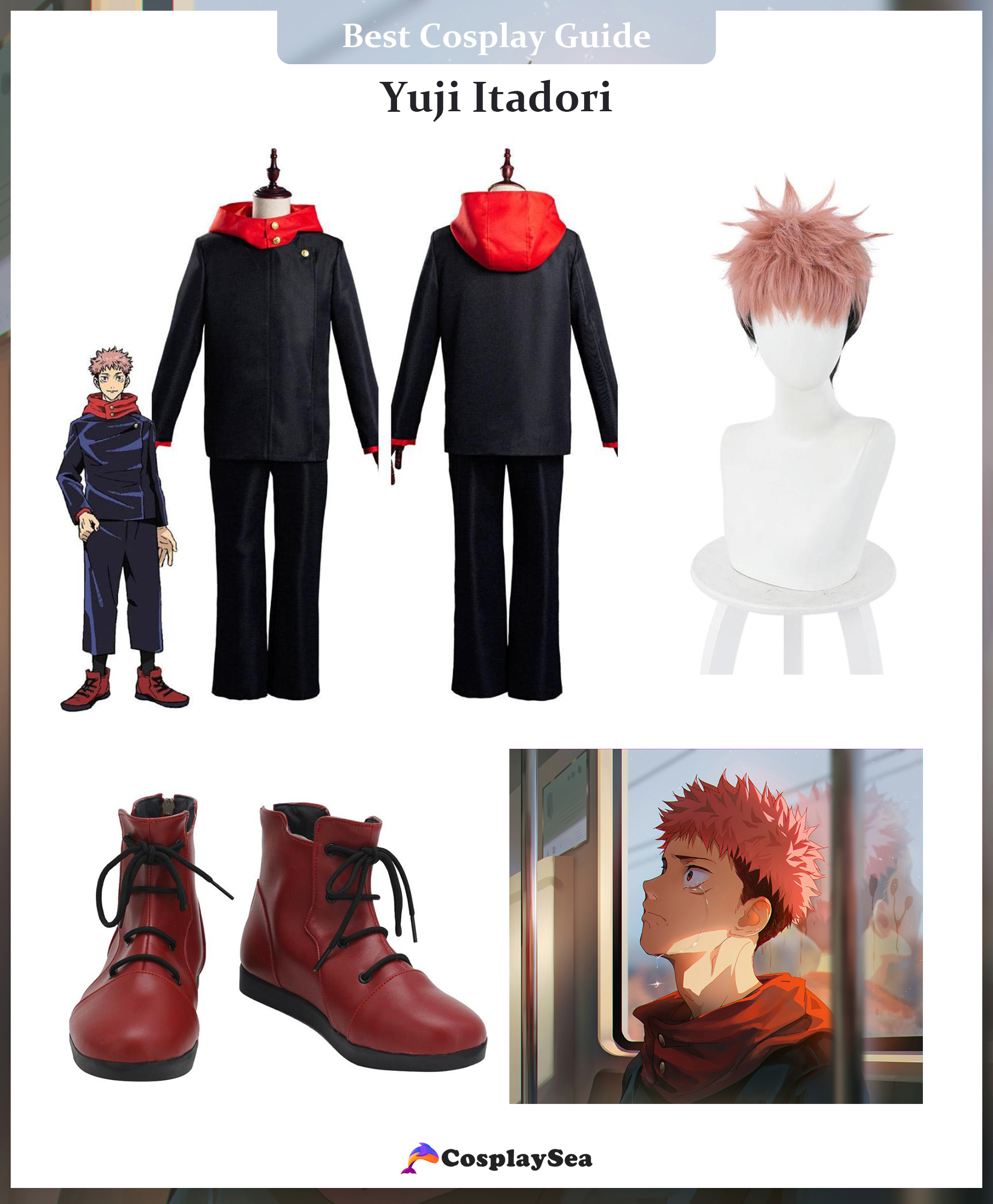 Yuji is a young man of medium height who seems slim in baggy clothing but has a lean and powerful physique. He also has substantial pale brown eyes and spiky pink hair fashioned in an undercut. While he becomes Sukuna's vessel after swallowing his finger, he receives a second pair of eyes that only open when Sukuna possesses his body, in addition to his various tattoos.
Yuji donned a light-colored hooded jacket, high-cuffed black slacks, and white shoes at the series. In the anime, though, his clothes were denim, and his shoes were bright red.
Source: Pinoyrella
Yuji began wearing his uniform version when he enrolled in the Tokyo Metropolitan Curse Technical College: a black long sleeve shirt resembling a gakuran over a red hoodie, black pants, and red shoes.
During the Shibuya Incident, he developed a visible scar between his two eyes and a lesser spot on his left labial commissure of the lips.
Yuji is a fair guy who genuinely cares for not only his colleagues but everybody he sees as persons with wills, regardless of how close he is to them. He values "the value of life," and to that end, he will guarantee that others die "properly." As a result, he feels that taking another human life is ethically wrong and seeks to prevent the idea of doing so unless as a last option.
Source: egames.news
He also has more active and extroverted characteristics, such as his numerous comic moments with Nobara raving about Tokyo and his excitement to train with Gojo, even while amusing Junpei and his mother.
Yuji is also quite passionate when focused on accomplishing specific objectives and somewhat stubborn when faced with them, as is when Yaga questioned Yuji's desire to become a sorcerer.
Due to his lack of expertise in the realm of cursed spirits and jujutsu sorcerers, he is also somewhat naive. He is, nevertheless, a keen learner, capable of swiftly adjusting to his environment and learning how to utilize cursed energy.
Although Yuji usually is calm, good-natured, and polite, he can get easily enraged in the face of pure malice, having experienced firsthand the brutality that curses were capable of, notably Mahito's horrible abuse of Junpei. Yuji was so horrified that he had a genuine urge to murder for the first time in his life, and he harbors a deep yet concentrated hatred towards the cursed spirit.
One of Yuji's distinguishing characteristics is his willingness to sacrifice himself for the sake of others, which was inspired by his grandfather's dying words to him, "Die surrounded by others." When a curse threatened him and Megumi, Yuji swallowed Sukuna's finger to exorcise the spell and save them, despite having met Megumi for the first time.
Back to DIY Guides.