Best Cosplay Guide for Tracer from Overwatch
Mar 02,2022 | Jessica Sylvie
Best Tracer Cosplay Guide
You'll need the following items for Tracer's cosplay.
Tracer is the youngest pilot admitted into Blizzard Entertainment's Overwatch video game. Tracer wears heavy-duty gear and travels across time with two massive guns in the blink of an eye. Because of Blizzard's usage of Tracer in Overwatch advertising materials, he is one of the most recognizable characters.
She is a vivacious personality that is ready for anything at any moment. A complete costume guide will show you how to dress up as Tracer.
Source: Le Petit Mond
Sometimes, you want to go above and beyond when it comes to cosplay. This Tracer costume allows you to do so without being too complicated to put together! Though this Tracer costume appears to be heavy-duty, it is a simple costume to put together for a last-minute cosplay.

With a Tracer costume that includes the helmet and gloves, you can start emulating her appearance from the famous Overwatch video game. After you've put on the helmet, gloves, and jumpsuit, put on a pair of Tracer boots to finish out the primary parts of the costume.
You'll also need two Tracer pistols because her outfit wouldn't be complete without her weaponry. Unless you have a comparable hairdo, put on a short brunette wig to meet the entire face.
You're now ready to time travel and have a good time with this cosplay! Bring along additional friends dressed as prominent video game characters or characters from Overwatch in particular. Please send us a photo of your attire to inspire others.
Information About Tracer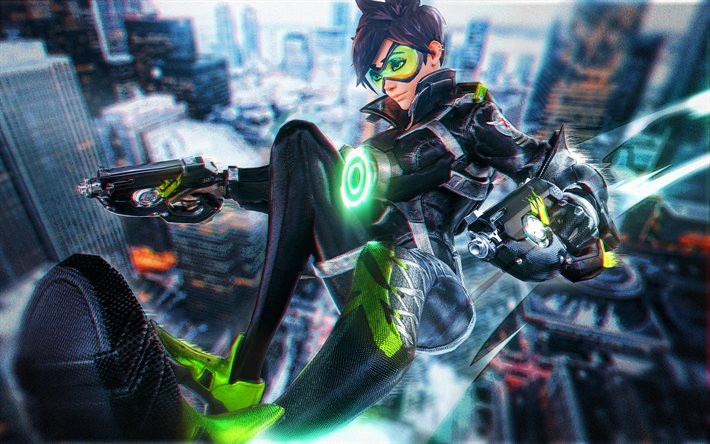 Source: besthqwallpapers
Tracer, actual name Lena Oxton, was chosen to be the first person to participate in Overwatch's experimental flight program. Lena's flying abilities were significantly superior to those of others, which is why she was chosen as the first Overwatch pilot. During the experiment, the aircraft malfunctioned, leading everyone to assume that Lena was killed in flight.
Lena returned to the present to everyone's amazement, but she was entirely altered. Lena was changed by the accident since she could no longer stay in one location for more than a few seconds.
Lena could control how and when she went through time after resolving the issue with the scientist who constructed the plane. Tracer exploits her new ability to defend individuals in need, even if it puts her own life in jeopardy.
Back to DIY Guides.