Best Cosplay Guide for Thanos
Jan 13,2022 | Jessica Sylvie
Best Thanos Cosplay Guide
You'll need the following items for Thanos cosplay.
Thanos Cosplay Costume

Thanos Cosplay Gloves

Thanos Cosplay Rings

Thanos Cosplay Mask
Thanos is a villain in Marvel's Avengers franchise. While he appeared briefly in previous films, in 2018's Avengers: Infinity War, he made his impact.
Thanos, born on Saturn's moon Titan, convinced his mother as a youngster that he would wipe out all life in the cosmos. When your mother tries to murder you, we can see why the big man became a little messed up.
In the current film series, he has stated his intention to wipe off half of the world's inhabitants, causing us to believe he is a deranged lunatic. It does, however, imply that his aim may be to preserve the rest of the cosmos.
For Thanos cosplay, you'll need the following goods.
Thanos Cosplay Costume

Thanos Cosplay Gloves

Thanos Cosplay Rings

Thanos Cosplay Mask
For many years, the Marvel world has had a tremendous impact on the big screen, playing to record-breaking audiences that only the following picture seems to be able to match.
We know you adore the Avengers movies, and if you're going to play the biggest bad guy of them all - Thanos – you'll need some help from your buddies.
Fortunately for you, Marvel characters are some of the most popular cosplay outfits in the world, so we're sure you'll find some eager players dressed as Thor, Gamora, Starlord, Captain America, Hulk, or Black Panther.
Comic-Con is a terrific opportunity to dress up as your favorite villain from the silver screen — it's not all about the good people, you know!
So start putting together the elements for your Thanos outfit right away. We'd love to see images of you dressed up as Thanos and his foes from the Marvel Universe, which you can share here!
Information About Thanos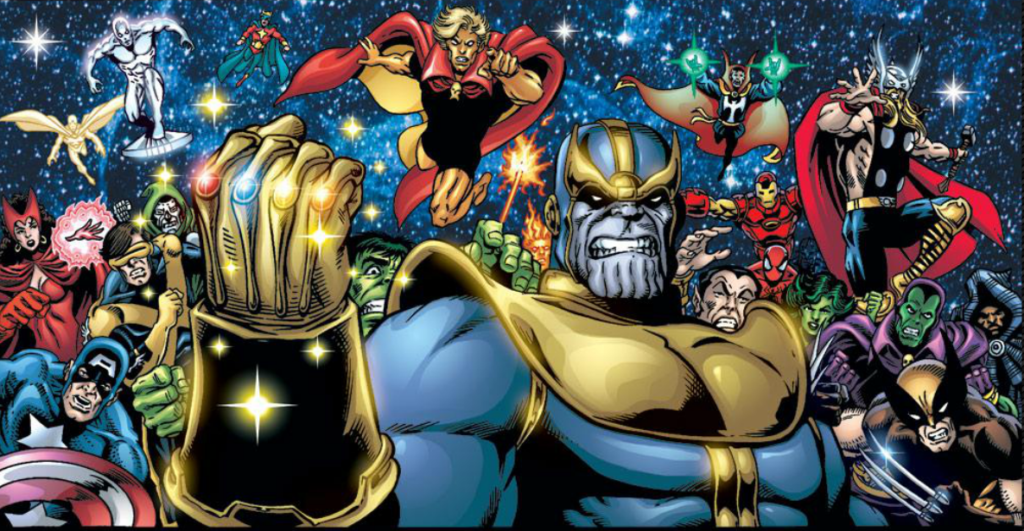 Source: comicbookherald
As played by Josh Brolin in the latest Avengers films, Thanos is a guy with great physical strength, an extraordinary scientific mind, and an ugly ambition to acquire all of the Infinity Stones and wipe off half of the universe.
While this makes him the enemy of all the good folks in the Marvel Universe, it is implied in the film that he is attempting to achieve this objective, not for personal power and wealth, but because he feels the universe is doomed until half of the population is eradicated.
During Infinity War, it is also revealed that he helped raise Guardians of the Galaxy's beloved Gamora as a kid - even though he voluntarily sacrifices her life to pursue his mad mission.
We don't know what Thanos' future in the Avengers film series holds at the time of writing. He has, however, been regularly utilized in Marvel comics throughout the years.
Back to DIY Guides.