Best Cosplay Guide for Spider-Man Noir
Feb 08,2022 | Jessica Sylvie
Best Spider-Man Noir Cosplay Guide
You'll need the following items for Spider-Man Noir's cosplay.
One of the most well-known Marvel superhero franchises of all time is Spider-Man. Spider-Man cosplay options have grown even more with the release of the 2018 film Into the Spider-Verse.
Spider-Man Noir's complicated, black-and-white worldview is a hilarious spin on Spider-normal Man's snappy comebacks. He reintroduces the traditional detective appearance of the 1930s into the modern-day.
Source: Evolution TV
Spider-Man Noir is a 1930s sleuth. His pessimistic attitude on life and rough exterior results from his experiences during the Great Depression, WWII, and the death of his Uncle Ben.
Although Spider-Man Noir is renowned for operating alone, he joins forces with other versions of himself in Into the Spider-Verse.
Spider-Man is a well-known character, and there have been several iterations and reboots in Marvel comics, films, and television series. Spider-popularity Man's might make cosplaying him tiresome.
However, Into the Spider-Verse has given cosplayers a slew of new alternatives! It has given our friendly neighborhood Spider-Man a completely new appearance.
If you like Spider-Man but want to try on a grittier, darker appearance for a change, Spider-Man Noir is the right occasion.
Why not gather the whole team? Invite your buddies from other dimensions to join in on the fun! Gwen Stacy, Miles Morales, Peter B. Parker, Peni Parker, and Spider-Ham round out the cast. Don't forget to enter the Halloween Costume Contest if you believe your costumes are the greatest in this realm!
Information About Spider-Man Noir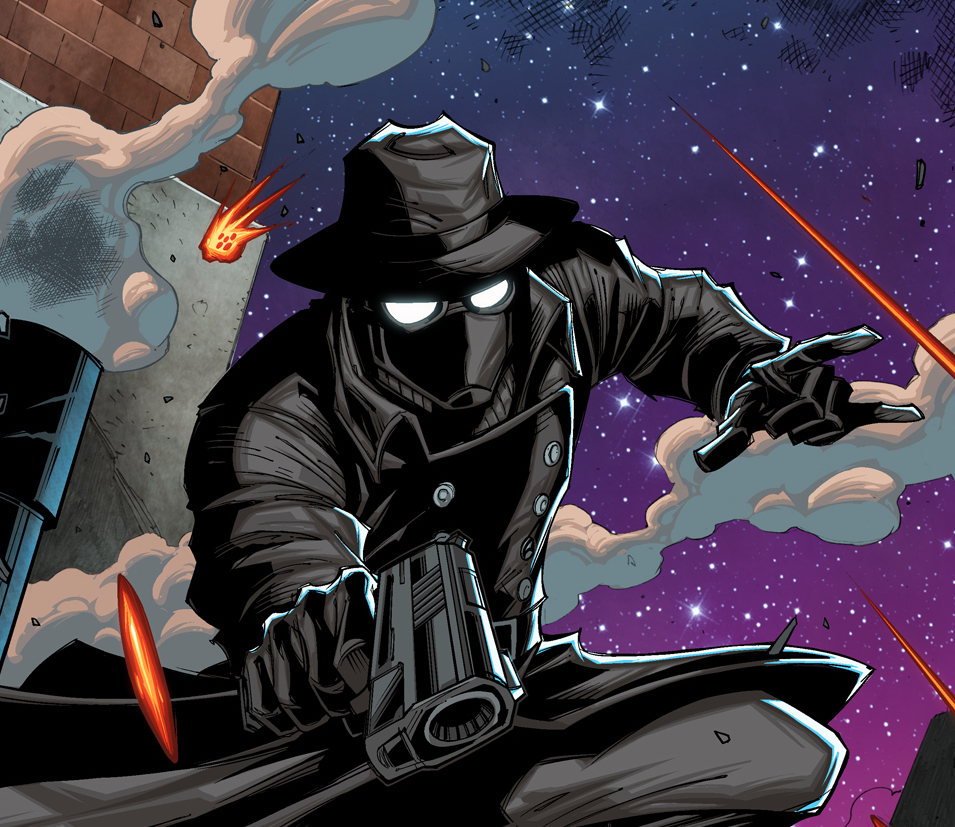 Source: aiptcomics
Spider-Man Noir is a fictional character from the Spider-Man comic book universe. Spider-Man Noir is not your run-of-the-mill Spider-Man, and Peter Parker is taken under the wing of seasoned reporter Ben Urich in the black and white world of the 1930s.
Peter discovers the Goblins' workers unloading stolen antiquities in a warehouse following a tip. Peter is bitten and passes out like a spider statue cracks and releases a swarm of spiders.
When he awakens and discovers he possesses spider abilities, he creates an outfit and mask modeled on his Uncle's WWI airman uniform and transforms into Spider-Man.
Spider-Man Noir is a hardened vigilante who does whatever it takes to bring justice. Thanks to Nicolas Cage's voice acting, he made the transition from page to screen in the 2018 film Into the Spider-Verse.
He is recognized for his stereotypical film noir speech in Into the Spider-Verse. He's only ever known the world in black and white.
Back to DIY Guides.