Best Cosplay Guide for Shenhe from Genshin Impact
Feb 23,2022 | Jessica Sylvie
Best Shenhe Cosplay Guide
You'll need the following items for Shenhe's cosplay.
Shenhe, who was born into an exorcist family, had a blissful childhood until her father attempted to sacrifice her to a terrible deity to reclaim his wife. While Shenhe overcame the god's remains, the tragedy left her traumatized for life.
She considered herself a "cursed" kid, and she began to develop murderous tendencies. Despite the adept's efforts, they have only succeeded in containing it by bounding her soul with Red Ropes, which has also led her to become largely indifferent.
Even with the red ropes holding back her murderous instincts, Shenhe frequently considers the most horrific means of eliminating people and is nearly always quick to rage, obliterating her surroundings whenever her emotions get the best of her.
Source: Secret Cosplay
She gives Xingqiu harsh stares, fearing he is threatening others. Despite this, Shenhe aspires to be a part of human civilization and highly regards the Traveler. She loves to converse with a small group of individuals at a time.
Because she lived with the adept, many of her peers regard her as one of them, which profoundly bothers her. However, she is only a proficient disciple.
She likes trying tiny amounts of foods, such as Albedo. Shenhe is used to consuming many herbs because he has a limited diet in the highlands, although he visibly despises their taste.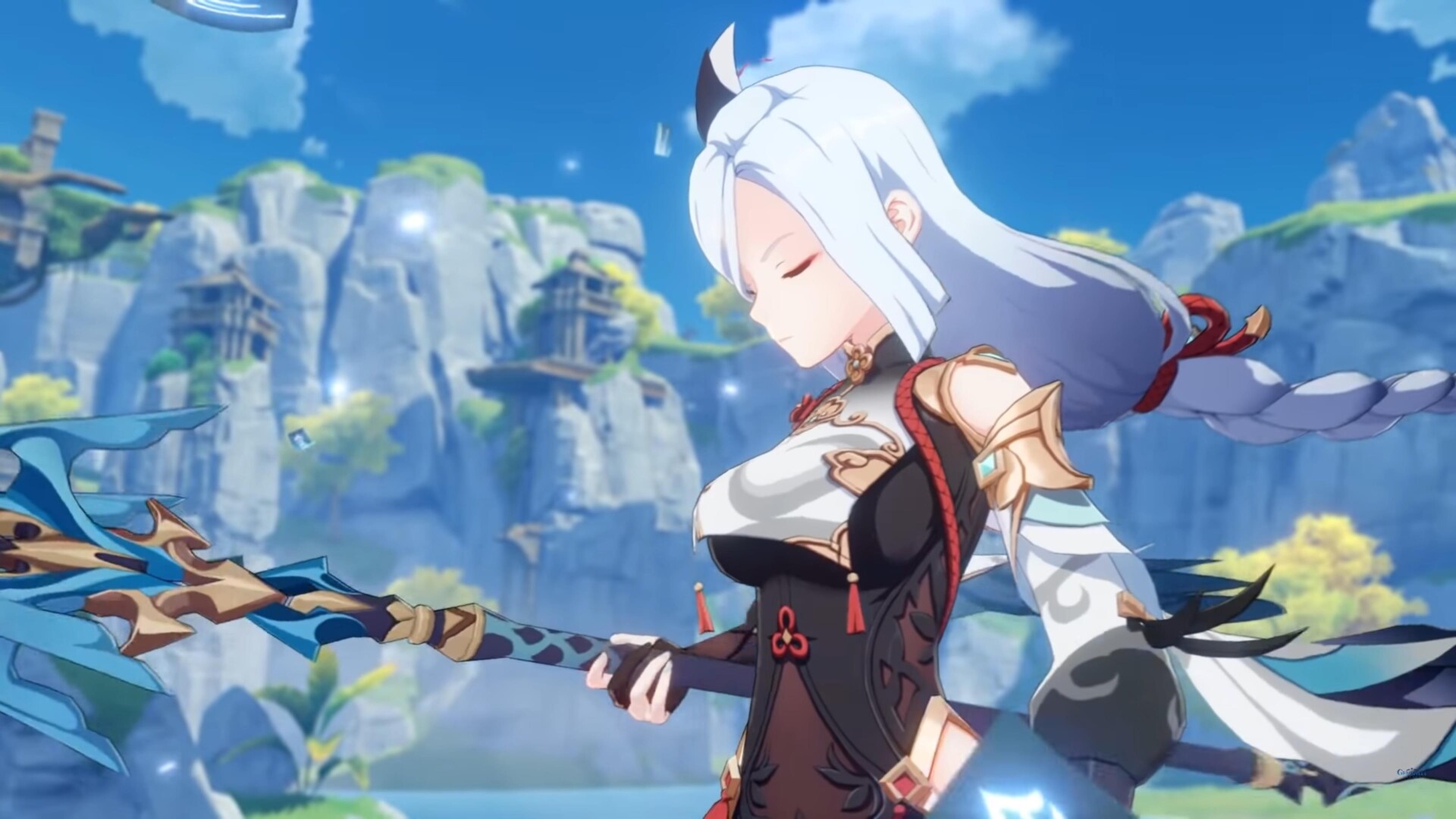 Source: PCInvasion
Shenhe is a fair-skinned lady of average height. Her hair has a silvery-white gradient that fades to black at the tips. Her hair is divided off-center, with equally cut locks flowing just past chin-length framing her face, one side concealing her right eye, the rest groomed in a low, loose, thick braid secured at the top with a crimson thread knotted in a bow with her Cryo Vision affixed on it.
Her ensemble comprises a black backless bodysuit that fades into turquoise at the legs. It continues to her hands, with a gold stud on each knuckle covering her middle fingers.
A coattail-like piece of white cloth patterned with gray is sewn onto the back of her bodysuit. On top, she is dressed in a cropped white-and-gray sleeveless qipao.
Her accessories include a complex white-and-black curving headdress and a red cloverleaf knot earring with a tassel on her right ear.
Back to DIY Guides.