Best Cosplay Guide for Melisandre
Feb 11,2022 | Jessica Sylvie
Best Melisandre Cosplay Guide
You'll need the following item for Melisandre's cosplay.
Melisandre is a strange woman endowed with extraordinary skills. She is a Red Priestess in the R'hllor religion and is usually referred to as the Red Woman.
She thinks that a champion will be the legitimate ruler of the kingdoms and follows the Lord of the Light. She is a humble follower of her deity, only straying off the road a few times.
Melisandre initially supports Stannis Baratheon and murders many people under his order. She subsequently joins Jon Snow's side after resurrecting him from a Night's Watch assassination, believing he is the Prince That Was Promised.
Source: Itslindosch
Appearances may be misleading, and Melisandre has many people fooled. Her actual shape is that of an older lady, but the enchantment of her charming necklace readily conceals it.
When she wears the necklace, she is perceived as a gorgeous woman with vivid red hair. Her beauty and magical skills sway many great monarchs, allowing her to fulfill duties for the Lord of Light. Melisandre's overall appearance makes her a terrifying Priestess.
Why not make it a party and invite your friends? Several characters to pick from, including Ned Stark, Jon Snow, Arya Stark, Daenerys Targaryen, Jamie Lannister, Khal Drogo, Sansa Stark, Night King, and many others. You will be filled with R'llor's power and will go to any length to satisfy his wants.
Information About Melisandre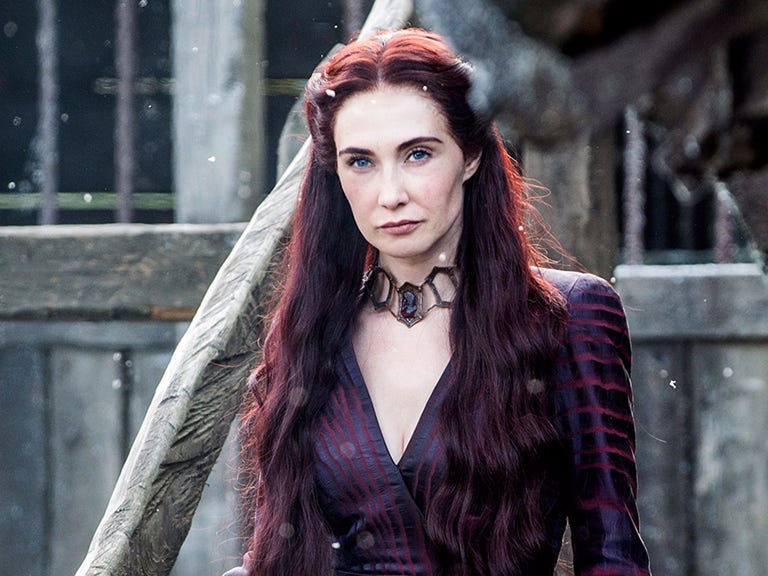 Source: businessinsider
In the HBO series Game of Thrones, Carice van Houten plays the Red Woman, commonly known as Melisandre. She's a lot older than she appears, even though she doesn't look it.
She is a Red Priestess who practices the Lord of Light's religion, which is practiced throughout Westeros. Divination, shadow binder magic, blood magic, pyrokinesis, resurrection, longevity, poison resistance, cold resistance, and alchemy are her abilities.
She's used her skills to create a ruby necklace that makes her seem younger while simultaneously delaying her actual age.
Melisandre's worships are recognized as pure, sound, and exact, but this does not imply she isn't harsh and nasty to others.
She will go to tremendous lengths for the Lord of Light, even if it means murdering many people and allies while serving Stannis. Her actual objective is to ensure that ice is conquered once and for all.
Her devotion to Jon Snow is more important than that of past allies. She has demonstrated her ability to be noble.
Back to DIY Guides.