Best Cosplay Guide for McCree from Overwatch
Mar 07,2022 | Jessica Sylvie
Best McCree Cosplay Guide
You'll need the following item for McCree's cosplay.
Cosplay has become more entertaining due to the addition of more intriguing characters from video games. Overwatch is no exception for the variety of heroes to mimic. McCree, the bounty hunter, is a particularly memorable character.
You have to be a highly dedicated cosplayer with an appearance like his to pull it off. Fortunately for you, this comprehensive costume guide includes a list of every element you'll need to construct McCree's outlaw costume. We were able to reduce it to only 13 parts.
Source: Duncan
Despite the number of elements required to pull off a great McCree cosplay, there are methods to cut corners and save money while still producing a fantastic outfit. If we only look at the critical components of his suit, we can find them mainly in a local costume shop.
His cowboy hat, golden armor, gloves, and, of course, colt 45 would be among these accessories. There are minor components, and if they can't be purchased as a set, they won't cost as much as you may imagine.
A red throw blanket or length of red cloth can replicate his crimson poncho. The fake cigar is a low-cost addition that will assist sell your outfit. The rest of his attire, which consists of brown pants and boots, can be kept plain, and the spurs are optional.
For group cosplay, you may enlist the help of other players such as Genji, Pharah, or Reaper. Check out the featured cosplay photos for even more inspiration. We'd love to see your photos as well!
Information About Jesse McCree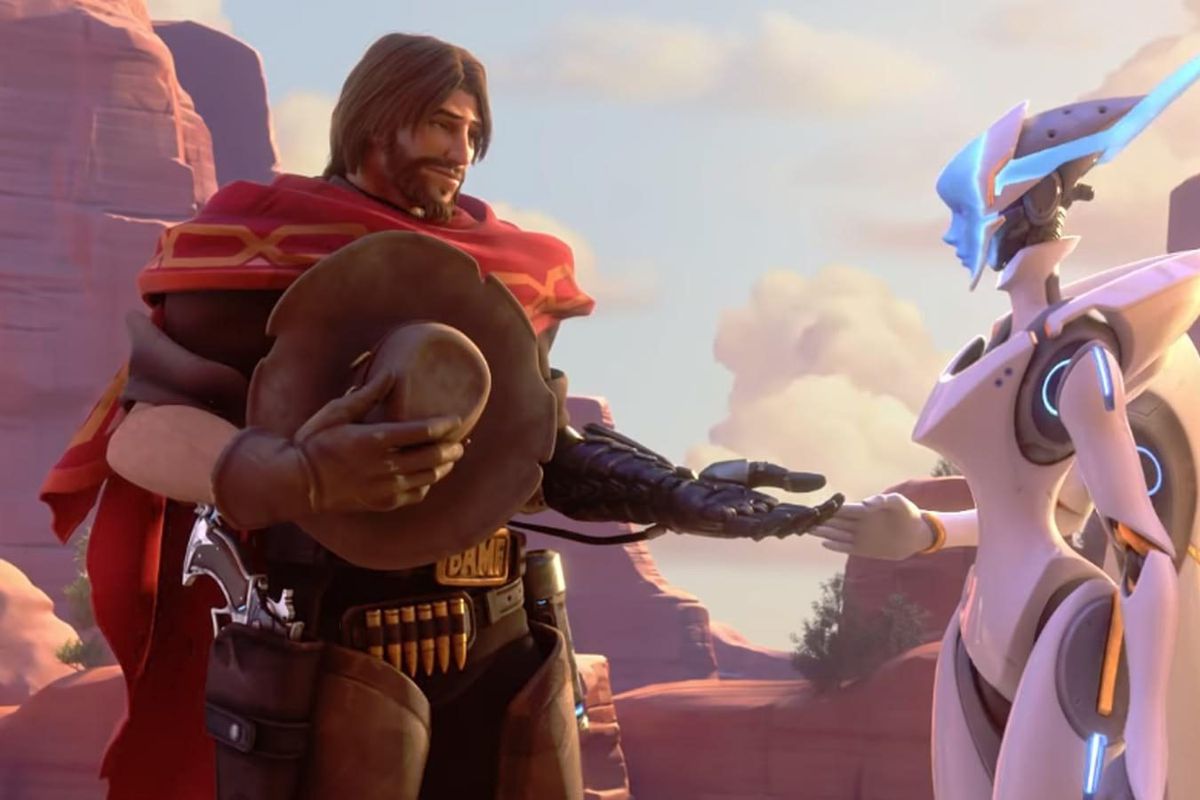 Source: Polygon
Jesse McCree is a cigar-smoking criminal from the computer game Overwatch with lethal adept shooting. After being arrested for trafficking military-grade weaponry, he was offered the option of forfeiting his peacekeeper revolver, languishing in a maximum-security jail, or joining Overwatch's covert activities section, Blackwatch.
He went with his firearm and the choice with the least amount of red tape. He was an asset as the group's influence grew. He was known for his talent and ingenuity.
McCree grew to believe in his salvation after first being hesitant about the influence he would make, finding modest results. He felt that by rectifying present injustices in the world, he might atone for his past misdeeds. McCree fled the organization as infighting began to wreak havoc. He reappeared a few years later as a hired gunman.
Although he is primarily sought after by political parties of all sizes, McCree will only take on issues he believes.
Back to DIY Guides.