Best Cosplay Guide for Armin Arlert
Feb 14,2022 | Jessica Sylvie
Best Armin Arlert Cosplay Guide
You'll need the following items for Armin Arlert's cosplay.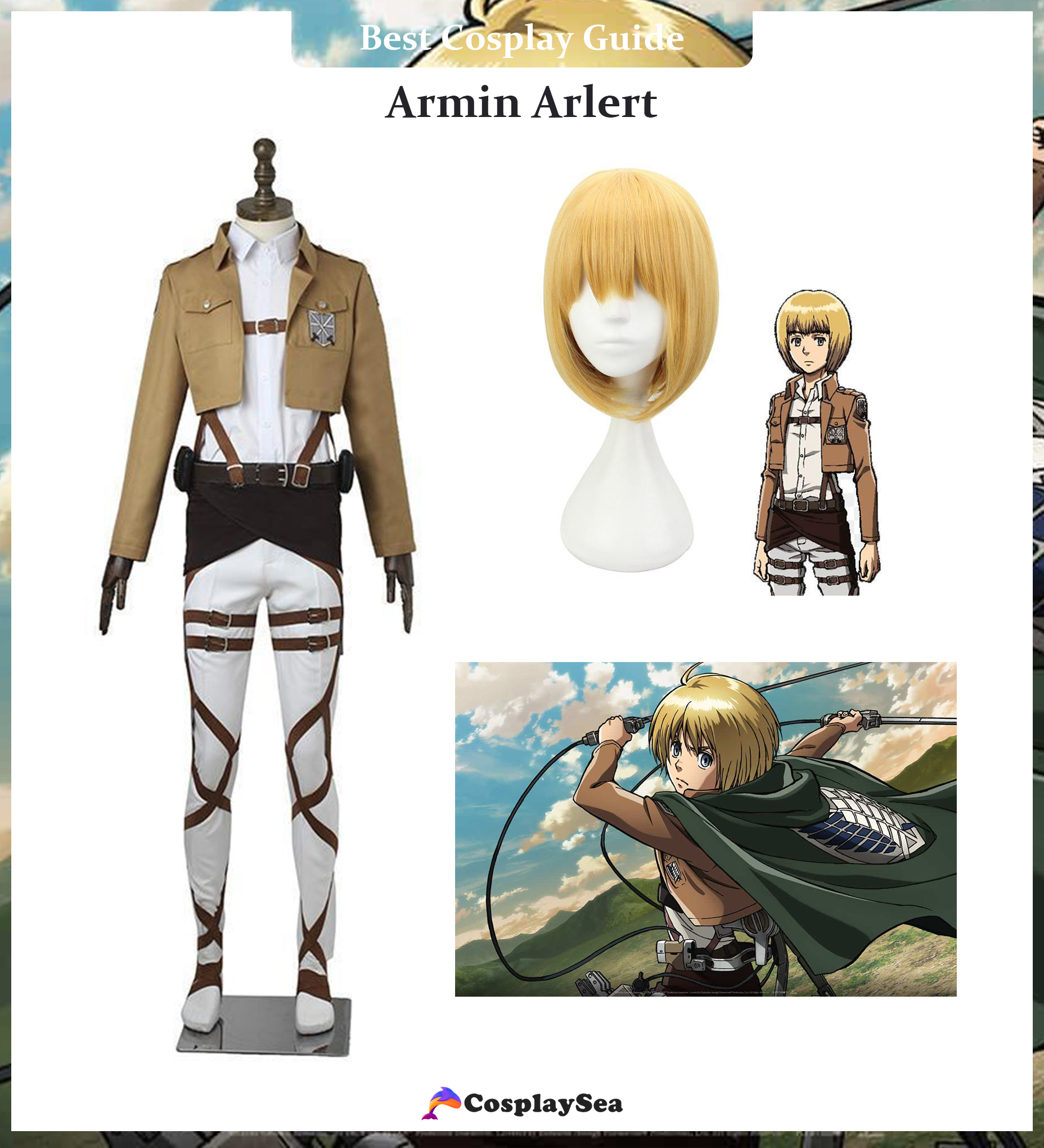 Armin Arlert is the current commander of the Survey Corps, which Hange Zo designated before their death. He is also a childhood friend of Eren Yeager and Mikasa Ackerman and one of the series' two deuteragonists.
Although he looks to be one of the 104th Training Corps's physically weakest members, his brains and strategic genius make him an important asset, especially when coupled with Hange.
He stole the Titans' authority from Bertolt Hoover after the battle of Shiganshina District. He obtained control of the Colossus Titan.
Armin has a boyish appearance, with huge hazel eyes and a tiny, pointed nose that is constantly bright red. His blond hair is trimmed in a long undercut with bangs over his brow.
Source: cactienthusiast
Armin's brows and sideburns are formed, suggesting his age. His frame is relatively thin and lacks muscle but not definition, as it has always been.
Armin is shown wearing a regular cloak for concealment before transforming during the raid on Liberio. He is visibly a bit taller and has his hair chopped shorter.
Armin, a Survey Corps soldier, is shown donning their revised black outfit for the night attack on Marley. Armin was a small adolescent for his age but had a well-defined frame.
He had a big face, blond hair in a bob, huge expressive eyes, and brown brows. Armin wore a long-sleeved single-buttoned jacket with a collared shirt, long dress slacks, and dress shoes in his childhood.
Armin wore the regular 104th Training Corps uniform with a white button-up beneath as a member of the 104th Training Corps.
Armin wore the traditional Survey Corps military suit before altering their uniform. He was dressed in a short brown jacket with a white collared button-up shirt underneath, identical to the one he wore as a teen.
Armin, like his friends, has augmented his outfit with a substantial green cape when engaging in trips and operations outside the Walls. He also wore long brown boots that nearly touched his knees, as did the other troops.
Like Bertolt's Titan, Armin is completely skinless and extremely towering in his Colossus Titan form. His Titan has long, slender arms that stretch beyond its knees and potent legs with short, thick feet.
Because of its size and height, his Titan's feet are shaped to stand without falling over. The top torso of Armin's Titan is equally slim, with a visible rib cage on the front and sides.
Its face lacks a nose, and nearly all of its skin is replaced by exposed bone. Armin's Titan form's eyes are sunken in and melancholy, surrounded by muscle. Armin's teeth are visible because of the absence of skin on his cheeks.
However, unlike the previous Colossus Titan, Armin's Titan has muscle around his mouth. What distinguishes Armin's Titan is the exposed windpipe visible at its neck, with only two tendons in front of it. It also doesn't have any noticeable outer ears.
Armin's Pure Titan form shared numerous characteristics with his human form before gaining the power of the Colossus Titan from Bertolt Hoover.
It had blond shoulder-length hair, a petite torso with no lips, dark eyes, and a skeleton nose, and it had blond shoulder-length hair.
Furthermore, the Titan's ribs were apparent through the skin, and its arms were very slender. While its actual height remained unclear, it was demonstrated to be large enough to peek over the rooftop of a three-story house.
Information About Armin Arlert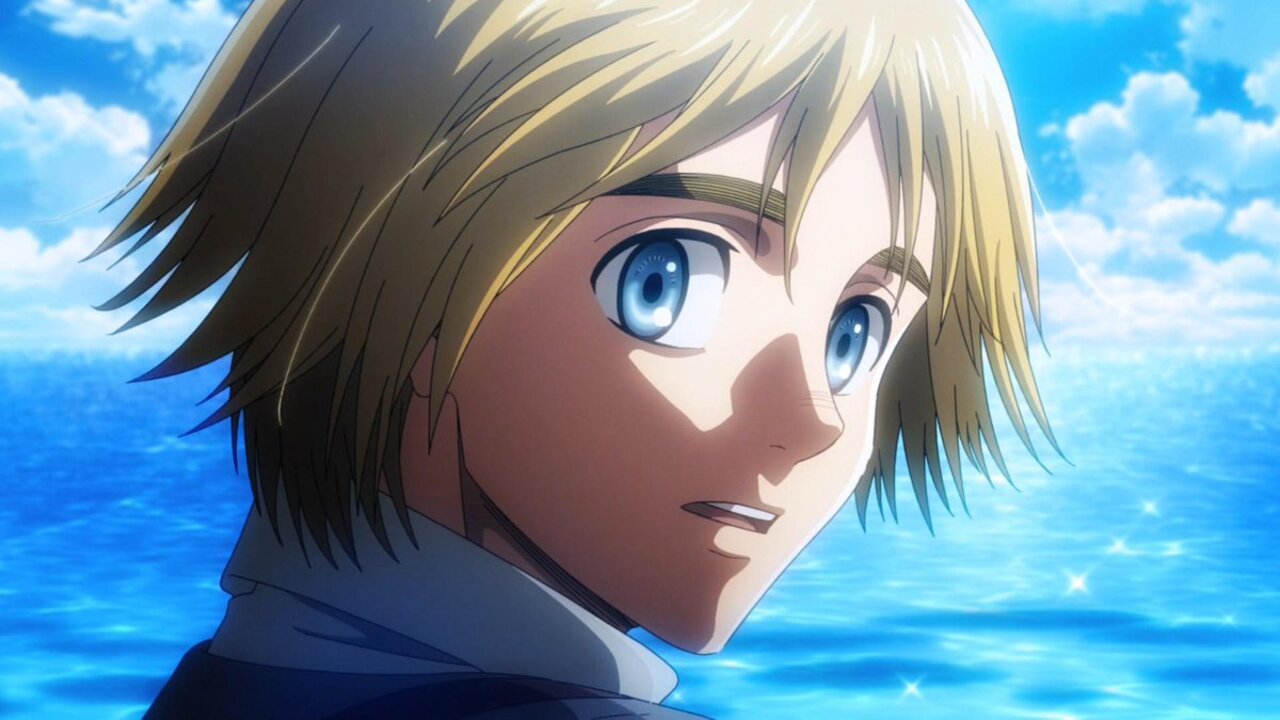 Source: mangathrill
Armin was born in the Shiganshina District of Wall Maria. He was left to live with his grandfather after his parents were killed to escape the Walls.
Armin sat weeping against a building one day, following the latest in a series of bully beatings. Eren Yeager, another youngster, stepped around the corner with a sinister expression on his face.
Eren questioned Armin, claiming that he never fought back and mistreated him; he then asked whether he wanted to stay on the losing side forever. Armin then maintained that by not fleeing, he was not losing.
Eren then inquired about his name, and the two struck up a relationship.
Armin and Eren were both outsiders among the other youngsters in town. Armin came upon a book written by his grandfather that day describing the outer world.
Motivated by what he read, he presented the book to Eren, who was then inspired by Armin's eagerness to escape the Walls one day.
Armin frequently spent his time enthusing Eren about the outside world, which piqued his interest. Armin expressed a desire to see these beautiful views for himself after reading his grandfather's book about salty oceans, deserts, and other strange or unheard-of locales.
However, his curiosity in the outside world was met with repeated persecution by local bullies, who saw him as a heretic.
Back to DIY Guides.